Welcome to St. Matthew Lutheran School!
Here at St. Matthew's, we have four full-time teachers and one half time teacher who serve our student body which consists of students in Gr. 4K through 8th. With low student-to-faculty ratios, we pride ourselves on our commitment to providing opportunities for every child to excel in every area: faith, academics, technology, arts, club activities and athletics.

St. Matthew Lutheran School is a member of a nationally recognized family of Christian education. Our teachers are certified by one of the largest parochial school systems in the United States, the Wisconsin Evangelical Lutheran Synod, which includes
403 early childhood ministries

316 elementary schools

23 area Lutheran high schools

2 Lutheran preparatory schools

2 worker training colleges
Please contact us for more information or to schedule a visit. We will be happy to see you!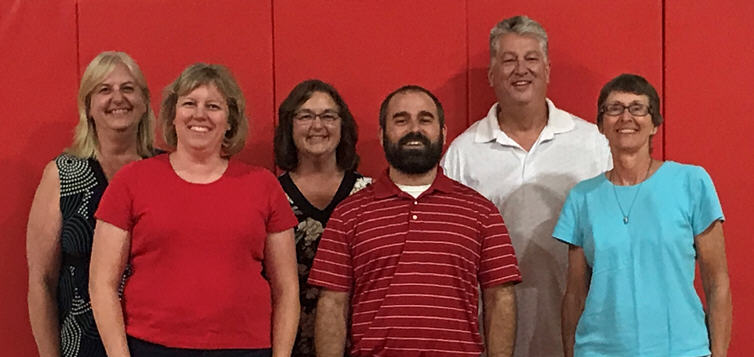 Mrs. Rebecca Schulz
-- Grades 4K and 5K
Mrs. Schulz teaches the littlest lambs at St. Matthew. She grew up on a small farm in central WI and attended WELS schools through college. She is a graduate of Dr. Martin Luther College in New Ulm, MN and holds a degree in elementary education. She acquired a WI state teacher license through Ripon College early in her teaching career. She also participated in a visiting teacher program and spent time in Australia learning about their educational system.



She lives on a beef farm near Iron Ridge with her husband, Doug. They have three daughters, Allison, Abigail, and Emily. Mrs. Schulz enjoys teaching the 4K-5K children and seeing them grow and develop so much over the school year.
Mrs. Nancy Qualmann
-- Grades 1st and 2nd
Mrs. Qualmann is originally from Minnesota where she graduated from Martin Luther College. She has celebrated teaching 25 years this past year. She feels it is such a joy teaching the children about their Savior, Jesus Christ! Her favorite Bible passage is Proverbs 3:5--Trust in the Lord with all your heart and lean not on your own understanding. When she is not in the classroom, she enjoys spending time with her family.

Mrs. Ruth Callies -- Grades 3rd and 4th

Currently Mrs. Callies is the teacher for 3rd and 4th grade. She also teaches a few 5th grade classes plus Music and Art in grades 6-8. She enjoys directing the two hand chime choirs and teaching piano lessons after school. Mrs. Callies has been teaching in Iron Ridge since 2007, and enjoys all the opportunities the Lord has given her to share His Word with the children.

Mrs. Sarah Horn-- Grades 5th and 6th



Currently Mrs. Horn is the teacher for 5th and 6th grade. Mrs. Horn was born in Detroit, Michigan. She graduated from DMLC in 1993 and received a call to teach in Watertown, Wisconsin, in 1995 and has lived there ever since. She has taught 3rd grade, 5th grade, and 6th grade and Extended Learning. She has lived in Wisconsin for the past 23 years and has had many students and her husband who all cheer for the Wisconsin teams (Packers, Badgers and Brewers).



Mrs. Horn is married to Tom and has theee daughters, Emma (13), Leah (12) and Hannah (8). Her husband Tom earnd his degree in Physical Therapist's Assistance and started a new job this summer.

This is Mrs. Horn's first year teaching at St. Matthew's in Iron Ridge, and we are blessed to have her and look forward to having her as part of the St. Matthew's Family.

Mr. Kevin Lorge, Principal -- Grades 7th and 8th

Mr. Kevin Lorge grew up in Greenville, Wisconsin, where he attended Immanuel Lutheran Grade School and Fox Valley Lutheran High School. After graduating from FVL in 2007, he attended Martin Luther College, in New Ulm, MN. At MLC, he earned a double major in Physical Education and Elementary Education. He graduated from MLC in 2012. Prior to serving at St. Matthews, Mr. Lorge served as a Tutor and Instructor at Great Plains Lutheran High School in Watertown, SD, for two years. He then served for one year as a 6th-8th grade teacher and Athletic Director at Peridot-Our Savior's Lutheran School in Peridot, AZ.

Pastor Larry Mose



Pastor Mose graduated from Wisconsin Lutheran Seminary in 1988, and was assigned to serve at Hope Lutheran church in Portland, MI. While there, he met and married his wife Connie, in 1989. They have been blessed with three children. In December of 1995, Pastor Mose accepted the call to serve as the pastor of St. Matthew's, and their family moved to Iron Ridge in January of 1996. He has been here since. Pastor and Connie feel very blessed and thankful to be a part of the St. Matthew's family.
History of the School:

St. Matthew's has a long and rich heritage of Christian education that dates back almost as far as the congregation itself. Less than two months after the congregation was founded in 1885, the congregation decided to build a schoolhouse near where the parsonage garage now stands. This 20x30 building was dedicated in September 1886. Miss Anna Wuest, daughter of Reverend Oscar Wuest, first conducted this school in the fall and spring months.

The school year as we know it with its 9 month schedule was established in the fall of 1916 by Reverend Philip Koehler. The school was moved to larger quarters in the church basement and the old school building was sold.

Even during the Depression Era, the members and leaders of St. Matthew's understood the value and importance of a Christian education. Although classrooms were becoming crowded and 45-50 students often studied under one teacher, the teachers remained steadfast in their ministries.

Our current school building was dedicated in 1957, and the gymnasium was constructed a few years later. In more recent years, the playground equipment was updated and the soccer field renovated. The members of St. Matthew Lutheran Church and School thank and praise God for the blessings he continues to bestow upon our educational ministry.